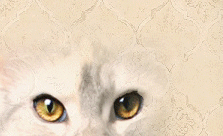 born 14.11.2006
EMS : MCO es 22




HCM DNA Test MyBPC3-1 N/N

HD - normal

FELV, FIV - negative




17 X Ex 1
7 X BIV
8 X NOM BIS
2 X BOS
1 X BIS kat II
Janica comes from famous czech cattery Axis Star. She was the first cat in Poland from this cattery.

This is a female with extraordinary beauty, very long body and a perfect balance. Beautiful, very large and well placed ears have long tipps. Excellent head and strong chin are great advantages of Janica. Janika is a cat with a rare coat - cream with silver. It adds her a lot of charm.

Her beauty fascinates judges on many shows in Poland and abroad. She wins every show! We are very proud of her!

Walentina, thank you for this beautiful cat!
Copyright © BELLAMOONDO ~~ Webdesign:
Solaris WebDesign - Agata Bujnowicz
~~ All rights Reserved!