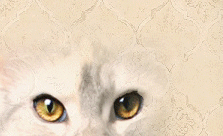 born 18.04.2008
EMS : F 09 22




HCM DNA Test MyBPC3-1 N/N

FELV, FIV - negative




Amber is daughter of our Belomndo and Janica.

She ist excellent mother's copy. Amber has long, strong body and great balance.
She is young, but very large female. Beautiful head, beautiful profile and strong chin are features of Amber. A big, well-placed ears and her look add her wildness.

She wins great results at shows.


3 X EX 1
1 X BIV TOTAL
3 X NOM BIS
2 X BIS LITTER
Copyright © BELLAMOONDO ~~ Webdesign:
Solaris WebDesign - Agata Bujnowicz
~~ All rights Reserved!